Today's customers are mobile, they want to communicate in a digital way through channels they use daily. They want a quick, efficient, and straightforward answer weather it be through email, social media, chatbots, mobile applications or live chat.
However, behind all those channels, there is also a person, so the synergy of talented people and smart digital solutions, says Katarina Stanković, Director of the contract processing service at Groupama osiguranje, is the best recipe for quality customer support in which the client comes first.
They are well aware of this at Groupama osiguranje, a member of the Groupama Group, one of the oldest and largest European insurance groups which, in collaboration with ASEE, implemented a Live omnichannel communication platform in November last year. Live optimizes and improves the work of contact centers, enables better customer relationship management and ensures easier communication across various communication channels. It also offers support for adapting various business processes within the organization, whether they are customer-oriented or internal workflows.
---
Strong foundation
"Introducing such a digital solution into business is actually a good preparation before expanding business and increasing the number of products in the portfolio, which are Groupama's short-term plans. Since the insurance company arrived in the Croatian market, the management has recognized the importance of introducing advanced technologies, both generally in business and in customer support, as it enables employees to manage the customer experience and the process of resolving customer inquiries", says Sanel Volarić, CEO of Groupama osiguranje.

Sanel Volarić, CEO of Groupama osiguranje.
However, besides satisfied customers, Groupama's goal in implementing the Live contact center solution was to increase employee satisfaction. Namely, aligning all communications, processing the history of conversations and previously resolved customer problems, as well as optimizing and automating the communication channel, can have a positive impact on the productivity of customer support employees, reduce stress, and increase job satisfaction.
Such a product can only be developed by someone who has been in this industry for many years and understands the customer support department well, such as ASEE, the leading regional producer of technological solutions for financial digital services.
"In developing this product, we were guided by two principles: modern technologies and previous experience in the industry. We have been in this business for over 20 years and we know the needs of customer support well. We have included features in this digital solution that we consider necessary to provide quality customer service. Flexibility, automation, mobility in the context of working from home or office, tracking analytics, personalization, where customer support employees have insight into the client's profile before, during, and after the call, reporting, or the ability to track key employee performance indicators in the system. Insight into the history of received and missed calls, and automatic call back to the client are just some of the characteristics of Live", said Dominik Galinec, Director of the Contact Center and CRM Solutions Department at ASEE

Dominik Galinec, Director of the Contact Center and CRM Solutions Department at ASEE
Satisfied employees of Groupama
Ružica Miličević, Project Manager for the development of CRM solution Live 3.0 at Groupama Osiguranje, emphasizes that the application is completely user-friendly and that every employee learned to use the Live application in just a few days.
"Before introducing the application to customer inquiries, we used to answer the phone without knowing whether it was the bank or the client, without any special preparation, and completely randomly. Today, we have control over calls and inquiries, we know who is calling us, and we can allocate our time for administration and communication with clients more efficiently. It took us about a week to get familiar with the application because it is extremely intuitive and easy to use, and the whole team was maximally engaged so that we could all benefit as much as possible," explains Miličević.
The advantages of the Live application for customer support are truly abundant, but the project manager especially emphasizes the function of recording communication history.
Thanks to this feature, says Miličević, every agent can "peek" into previous communications with a client with whom another colleague had previously spoken and continue the conversation as if they had led it themselves. The availability of all necessary client information in one place reduces uncertainty when answering calls and enables high-quality conversations that lead to resolving client inquiries on the first call, without further call transfers. Consequently, this also reduces call time, which has been shortened by approximately one minute at Groupama, meaning that responses are more efficient and faster, says Miličević.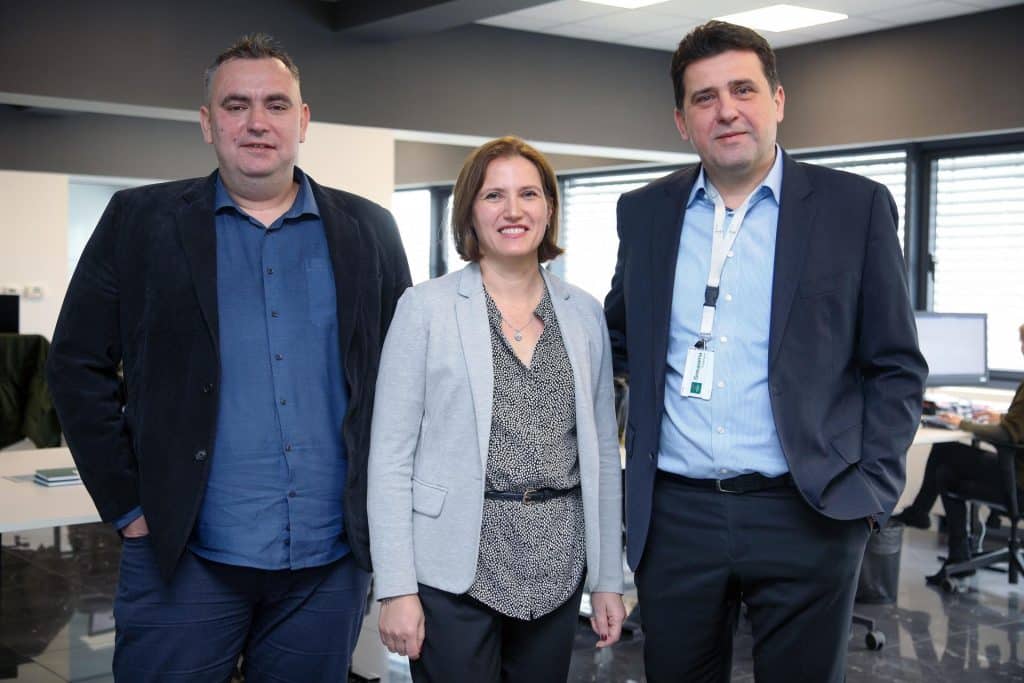 Great for mentors
This digital tool has the capability to integrate calls and emails, social media, live chat implementation, video calls, and chatbots. It contains all employees' work in one place, which is especially useful for mentors who can guide new colleagues in their job.
"For example, a mentor can mark parts of the conversation. Later, they can use those conversations in training (how to communicate better with clients and manage the conversation, and how to resolve client inquiries more quickly and efficiently) by playing only the marked parts of the conversation without spending time listening to the entire conversation. The application can also tally how many calls an employee has made, how much time they spent on administration, and even how long they took for a break. That part is the least popular among us all", says Ružica with a smile.
The Live solution has been implemented in leading banks in the wider SEE region. The solution can be found in other major companies that need active communication with clients, from large retail chains to fintech companies. Live is also available in other companies worldwide, including one of the leading Egyptian banks, which has a virtual branch with a personalized chatbot. The solution is continuously upgraded according to the needs of users, and each implementation is customized for each client according to their communication needs.
Tracking trends
Although with Live positive changes are recorded in Groupama's customer support, the real strength of this investment will only be shown in the upcoming period, says Groupama osiguranje CEO Sanel Volarić.
"Currently, we have about 60,000 clients, but by the end of the year, that number will increase by a third. As a result, interaction with our existing and new clients will increase. In collaboration with ASEE, we will continue to develop and upgrade the omnichannel platform system and adapt it depending on the needs of clients, technological changes, consumer habits, and other factors that affect the development of this department", concludes Volarić.
Check out this article in Croatian: https://bit.ly/3lFQgim
---
Learn more about how the Live product family can help you support and improve your customer experience strategy.