Utility companies play a significant role in modern society and the economy, providing natural gas, electricity, water, sewage, and other necessities for residential and commercial consumers. Due to such relevance and impact on our lives, such companies are typically heavily regulated by public authorities. Because of intense regulatory oversight, increasing revenue by raising price rates is not a simple option for utility companies. They need to establish sustainable cost management via process optimization and improved efficiency.
The significant revenue increase is possible only by opening new business opportunities (e.g., investments in renewable energy) or efficient acquisitions providing a great economy of scale. To exploit these opportunities, coordinated digital investments are needed, leveraging advanced digital technologies: internet-of-things, analytics, omnichannel communication, mobile, and BPM.
To develop and maintain such a complex digital environment, companies need to upskill and transform their workforce and create a partner ecosystem that complements internal skills and capabilities. As an example of possible digital solutions in energy distribution network management, a gas distribution solution will be depicted.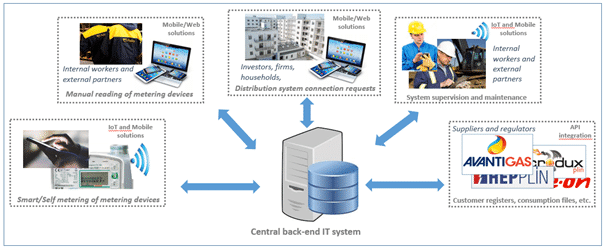 Gas network operators develop and maintain gas distribution networks (grids) and sell access to their networks to retail service providers. In that way, they connect gas suppliers with gas consumers at the grid end-points by reliable and safe gas distribution. They also enable consumers to change suppliers in a timely manner, inform suppliers about their consumers' consumption data, and communicate all necessary data to a regulatory body. Such a complex stakeholder environment requires an adequate digital platform enabling a broad set of business functionalities:
Complex communication with consumers and workflow support related to handling connection requests, supplier changes, and many other services provided to consumers (exchange of meters, complaints, etc.).
Providing mobile and web solutions for internal workers and their partners responsible for the manual reading of consumption and delivering the data to the central system.
Enabling communication with smart meters as IoT devices and mobile communication with consumes for self-reading.
End-to-end paperless management of work orders and activities on monitoring and maintaining the network grid for internal and external partners.
Supporting collaboration with suppliers that rented access to network grid to provide gas to their consumers (consumption data for the billing process, etc.).
Exchanging data with regulatory body regarding consumer register, changing suppliers, and all other regulated aspects.
Obviously, due to the very intensive and complex communication with diverse stakeholders, strong analytical capabilities on the back-end side are needed for integration and processing of collected data and providing a variety of results to feed many business needs from consumption prediction to management reporting. The back-end system must have robust integrability to enable smooth and reliable integration with many other sub-systems like GIS, for example, that could support business processes' efficiency. Summarizing all said, digital transformation of energy network operators requires a complex IT system that integrates advanced digital technologies like IoT and advanced analytics with traditional technologies needed for process optimization, like DMS and BPM.
To ensure the network's safety and integrity, a network operator needs to set up hundreds of checking points across the system, taking real-time readings of temperature, pressure, and gas flow. The cloud-based platform with strong analytical capabilities processes collected data in real-time to enable data-driven predictive maintenance of the gas distribution network. Monitoring and maintenance activities on the field are executed by field-workers, internal or external partners, who are entirely digitally equipped by mobile solutions with GIS support to improve the field operations' efficiency. BPM and DMS modules are usually used to ensure completely paperless and harmonized processes of work-unit management.
---
Support development and maintenance of your distribution system with Asseco digital solutions and expertise!
In strictly regulated environments, network distribution operators face a challenging task to establish capabilities and processes to develop and maintain network grids. To ensure safe and reliable energy distribution, operators need a reliable cloud-based digital platform with omnichannel communication capabilities, strong analytical support, and flexible, paperless process definition. All these features are provided by the Asseco LIVE solution family combined with Asseco experts' strong expertise to enable operators to accomplish digital transformation and achieve their business goals. High integrability enables operators to smoothly integrate LIVE in their existing IT architecture, achieving full process automation and cost optimization.
For more information on how Asseco and the Live product family can support the digital transformation of the energy network operation business, please contact us.