The COVID 19 pandemic forced most organizations to shift to remote working. Most of the time, the traditional working model, where most of the employees worked in the office, was suddenly found obsolete. Overnight, lockdowns demonstrated that the large majority of workers could do their jobs at home. Jobs that we never imagined could be performed remotely — like call center operators or claim adjusters — suddenly and successfully switched to a home office. Leaders realized that the remote working model works and has obvious benefits.
The recent BCG's "Workplace of the Future" survey reveals more insights about these benefits:
The survey results prove the experiences of many organizations around the globe – the organizations that we're able to organize efficient remote work during the lockdown quickly avoided most of the pitfalls regarding efficiency and data protection. They gained many unexpected benefits like higher productivity, reduced costs, and lower turnover rates/absenteeism.
A sudden push to remote work forced the organizations to accept agile principles widely: forming empowered, cross-functional teams; rapid decision making; and experimentation. Instead of real physical co-location of team members, organizations implemented a digital tool to enable "virtual" co-location rooms and support for agile events (stand-up meetings, planning, retrospectives, etc.).
We truly believe that employee experience is the most relevant ingredient for great CX, especially in the pandemic time. Therefore, employers must investigate how the change of working model influenced employees' well-being and what they prefer working models. A Goodfirm's research on these issues provides leaders and HR managers with many insights regarding these issues.
The research results show that the unplanned and forced switch to remote work hasn't been beneficial for the employers but their employees. The vast majority (around 70%) prefer a hybrid working model that provides a flexible split between office work and work at home without compromising productivity.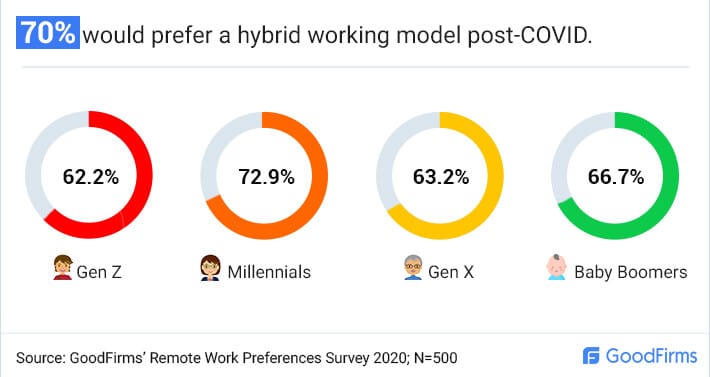 As we hopefully approach normalization of the pandemic situation, due to vaccination and other measures that will open the possibility of safe return to the traditional workplace, leaders are considering different options for future working models to support organizations to maximize employee engagement, well-being, and productivity. The mentioned survey results and many other examples worldwide indicate that employees and employers alike have little interest in returning to pre-pandemic work models. It seems that keeping the best practices learned during the pandemic lockdown and related benefits is a win-win situation for both employers and their employees.
To harvest the preferred working model opportunities for both sides - the hybrid one, organizations need to adequately support it efficiently by implementing new digital systems and collaboration tools. The environment should integrate omnichannel communication, flexible process management, cybersecurity protection, knowledge sharing, and measuring work output rather than hours. High integrability with other IT landscape components enables fully digital processes and a seamless customer experience.
For more information on how can Live product family can support the implementation of an effective hybrid working model, please contact us.